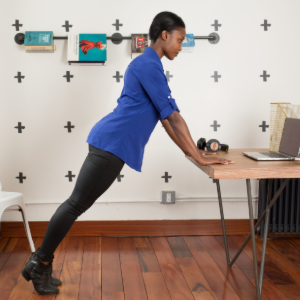 Many of us know that it is important to live a healthy, active lifestyle. Yet so many have sedentary lives where we make costly unhealthy choices on a daily basis.
Practicing correct posture is one of the most important things you can do for yourself at the office. Engaging in exercise and physical activity that increases our heart rate at least three times a week has amazing benefits for the body and mind. It aids in weight loss, reduces our risk of chronic diseases, increases blood flow and our energy level, promotes happiness, and a number of other great things.
With our busy schedules, it can be difficult to carve out the time to exercise. Thankfully though, we don't need a gym membership or even a lot of space to get in a great workout. We can even workout right at our desk at work!
---
Statement
Before you begin any workout demonstrated in this PowerPoint, please consult with your Doctor to see what level of activity you can do. If you feel any discomfort while performing any of these exercises, please stop what you're doing and get help.
Level of intensity my very. Please use good judgment when using office materials in your work environment to do these exercises (Rolling Chairs, Desk with wheels, etc.)
Workouts demonstrated in this PowerPoint document is simple, easy to follow instructions to help prevent stress and increase a healthy active work environment.
If you're new to exercising, you can always ask a trained professional at your local gym or contact your manager with any questions you might have.
Course Curriculum
Importance of Good Posture
Instructors