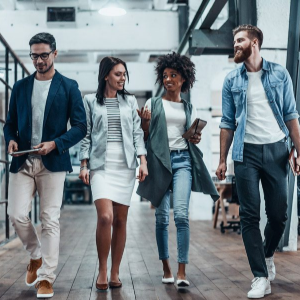 Headway expects employees to dress appropriately in business attire. Because our work environment sees frequent visits from customers, clients, and the public, professional business attire is essential for our reputation. The formality of our business attire makes clients and customers feel that they can trust our judgment and recommendations. Check out the Headway Dress Code Policy here – http://www.headwaycorp.net/wiki/dress-code-policy-headquarters/.
Employees are expected to demonstrate good judgment and professional taste. Courtesy towards coworkers and your professional image to coworkers are the factors you need to use to assess whether you are dressing in business attire that is appropriate.
Not only does dress matter but also that includes heavy perfumes and colognes. Some coworkers may have allergic reactions and sensitivity complications to the sprays that you may use. It is NOT prohibited to use these items but please be mindful of your colleagues.
We reviewed the dress code policy last August and no updates were approved.  During the month of May 2021, while we are working one day a week in the office, employees can continue to work in casual clothes.  The Pandemic Team will discuss how we move forward with any changes for June and July.  Most of the staff who have continued working in the office during the pandemic have not arrived dressed in shorts or sloppy attire.  Some people have dressed up but most people wear jeans and nice shirts.
Course Curriculum
Headway Workplace Attire

"What you wear is how you present yourself to the world, especially today, when human contacts are so quick. Fashion is instant language." -- Miuccia Prada
Instructors